Container Gardens are Perfect for Small Spaces
Container gardens are perfect for if you're short on space or add dimension to a patio, deck or pool. Whether you want to grow fresh plants, flowers or fresh herbs - container gardens are easy to care for and enjoy.
Put Nature on Display with a Container Garden
Add color and height to your garden with an easy-to-care-for hanging planter filled with colorful annuals. We have decorative shepherd's hooks in different heights with one, two or three hooks for hanging.
Perfect for Outdoor Living Spaces
Container gardens are perfect for small spaces like balconies, porches and patios. They are also a great way to enjoy nurturing a garden without investing a lot of time. Add plant stands or outdoor shelves for different heights of your container garden to make it look full and lush. Choose plants, flowers, vegetables and herbs that are easy to grow, care for and that you enjoy.
You can even mix herb plants with flowers in the same container if they have the same care requirements. Ask one of our gardening experts for help - we'll help you match the best herbs and flowers.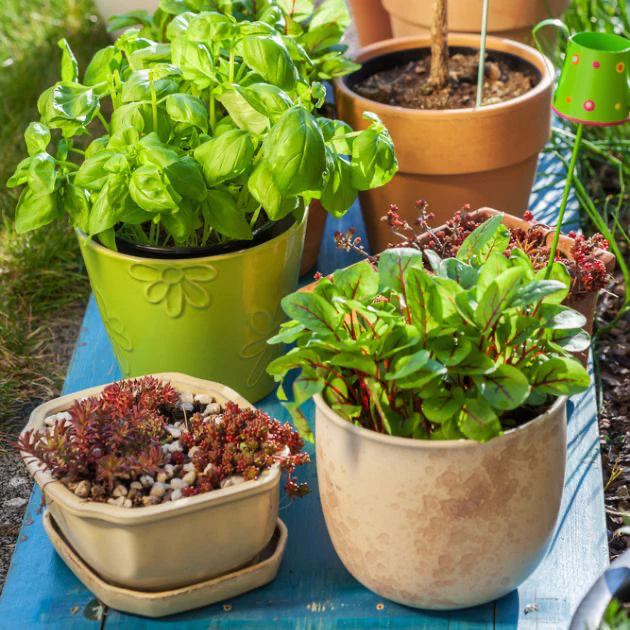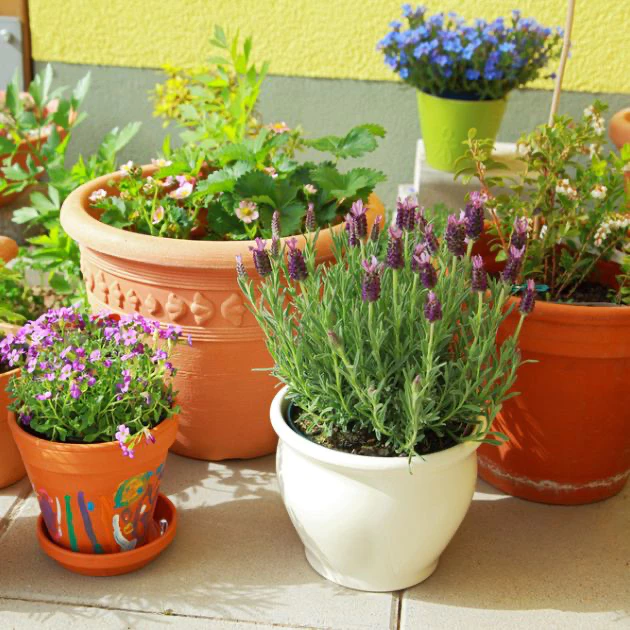 Grown Container Gardens in Any Season
Grow in any season
With container gardening, there's no need to worry about the seasons – just create your own micro-climate and make it happen! They're also very portable - container gardens can be moved from one location to another and indoors when the seasons change.
Choosing Container Garden Plants
Ferns are available in many varieties – some will do well in partial shade and some in full sun.  There's different varieties of ferns – fuzzy, green, oranges, purples and silvery leaves. Ferns will grow tall and spill over containers
Hostas are an easy plant to grow in containers.  They're among the strongest and hardiest plants – and there's a number of varieties available so even if your container garden is made up entirely of hostas, you'll have visual interest. There are even hosta grown to thrive in full sun, not just shade anymore!
Persian Shields, Pentas and Upright fuschias are a few flowers that can give your containers height that is needed.
Flowers such as million bells and petunias, lobelia and euphorbia add amazing color and some serious dimension.
Perennial Flowers
Perennial flowers can also be planted into containers. They add a variety of foliage contrast that is different than regular flowers. In addition, you can plant them into your gardens in fall for a plant that will come back each year!
Fresh Herbs & Vegetables
Use window boxes or planters just outside your door for use in your kitchen or on the grill! Tomatoes, peppers, lettuce and scallions do really well in containers and will taste so good with your home cooked meal. And don't forget that herbs are the finishing touches for freshness! Cilantro, parsley, dill and tarragon will thrive in your container garden.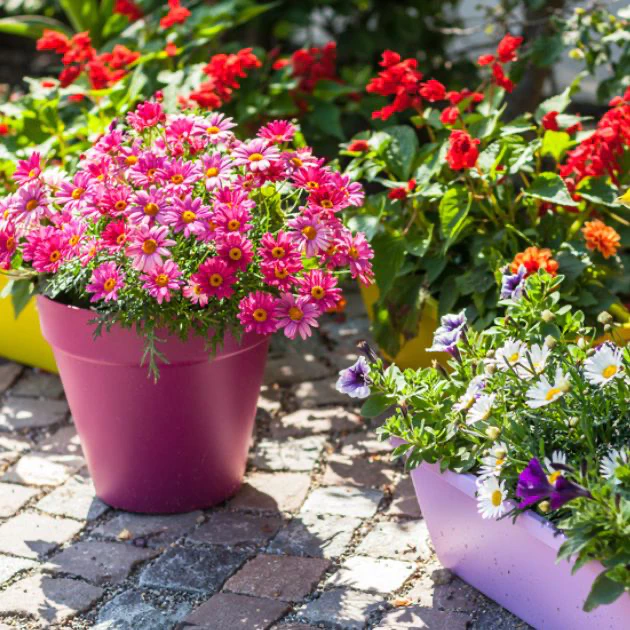 About Thomas Greenhouse & Gardens
Our greenhouse carries the best plants and flowers for containers and container gardening. Our expert team will help you select the right container gardening plants for your patio, porch and outdoor living space. Thomas Greenhouse & Garden Center is in Mukwonago near Burlington, Lake Geneva, Racine, Waukesha and Milwaukee.