Hanging Flower Baskets
Looking for a way to make your outdoor spaces pop with color? Add hanging flower baskets! These beautiful baskets will brighten things up. See what we have at Thomas Greenhouse and Garden Center!
Add Height and Color with Hanging Flower Baskets
Add color and height to your garden with an easy-to-care-for hanging planter filled with colorful annuals. We have decorative shepherd's hooks in different heights with one, two or three hooks for hanging.
Perfect for Outdoor Living Spaces
Hanging Baskets are perfect for adding color to your patio, porch, garden, or pergola. Think of what fresh flowers do for your dining room table when you sit down for a meal - it suddenly elevates the experience. You can do the same when you're entertaining family and friends with a few simple, well-placed baskets.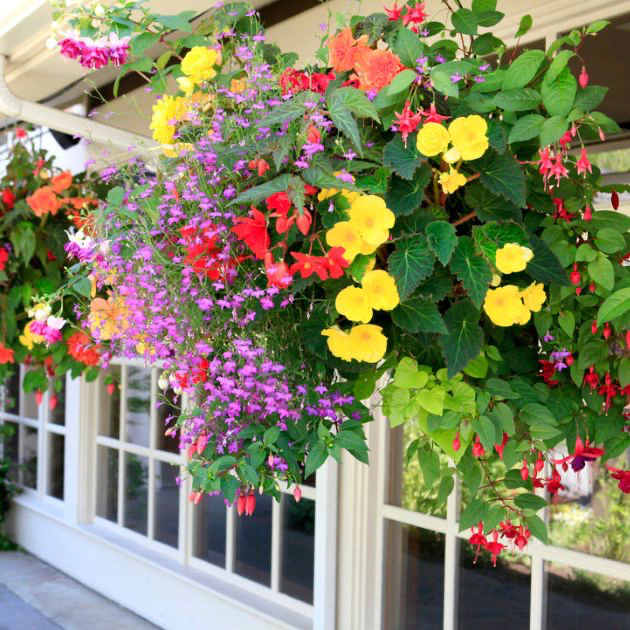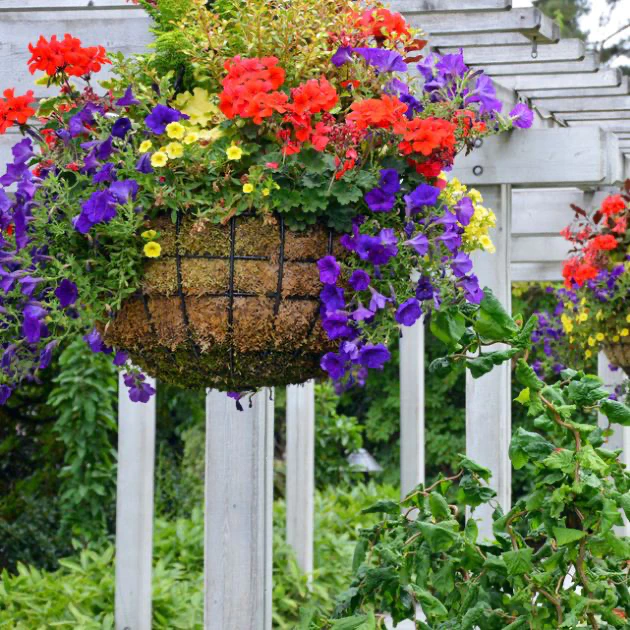 Brighten up Your Entry or Fence
Hanging baskets can also be used to brighten up the entryway to your home. Place a shepherd's hook on either side of your concrete porch and add your favorite flower or plant. You can also freshen up the look of your fence or outdoor walls with colorful flowers.
Caring for Hanging Baskets
Our hanging flower baskets are "ready to go" for you and your home - here's how to care for them. Hanging baskets make a great addition to these spaces because you won't have to weed them just follow these steps for care...
Simple Steps for Hanging Basket Care
Select the right location for your baskets – be mindful of sun and shade conditions
Be sure to remove dead blooms and leaves – that way your plant will send nutrients and water to the its living and thriving parts
Water them regularly – hanging flower baskets will drain and dry up more quickly than flowers in the ground – check the moisture level of the soil before watering
Fertilize hanging baskets once a month to keep the plants fed. When they are watered as frequently as they need it, the nutrients run out of the soil and need to be replenished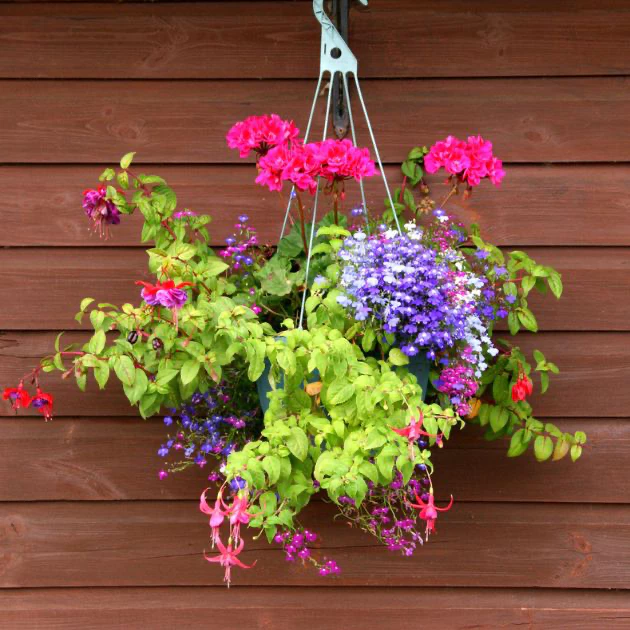 About Thomas Greenhouse & Gardens
We tend to our hanging annual baskets in our greenhouse. Our garden experts tend to them from with love and care. That means that our plants are strong, healthy and ready to be planted in your garden. We are the best choice for vegetables and herbs. Thomas Greenhouse & Garden Center is in Mukwonago near Burlington, Lake Geneva, Racine, Waukesha and Milwaukee.